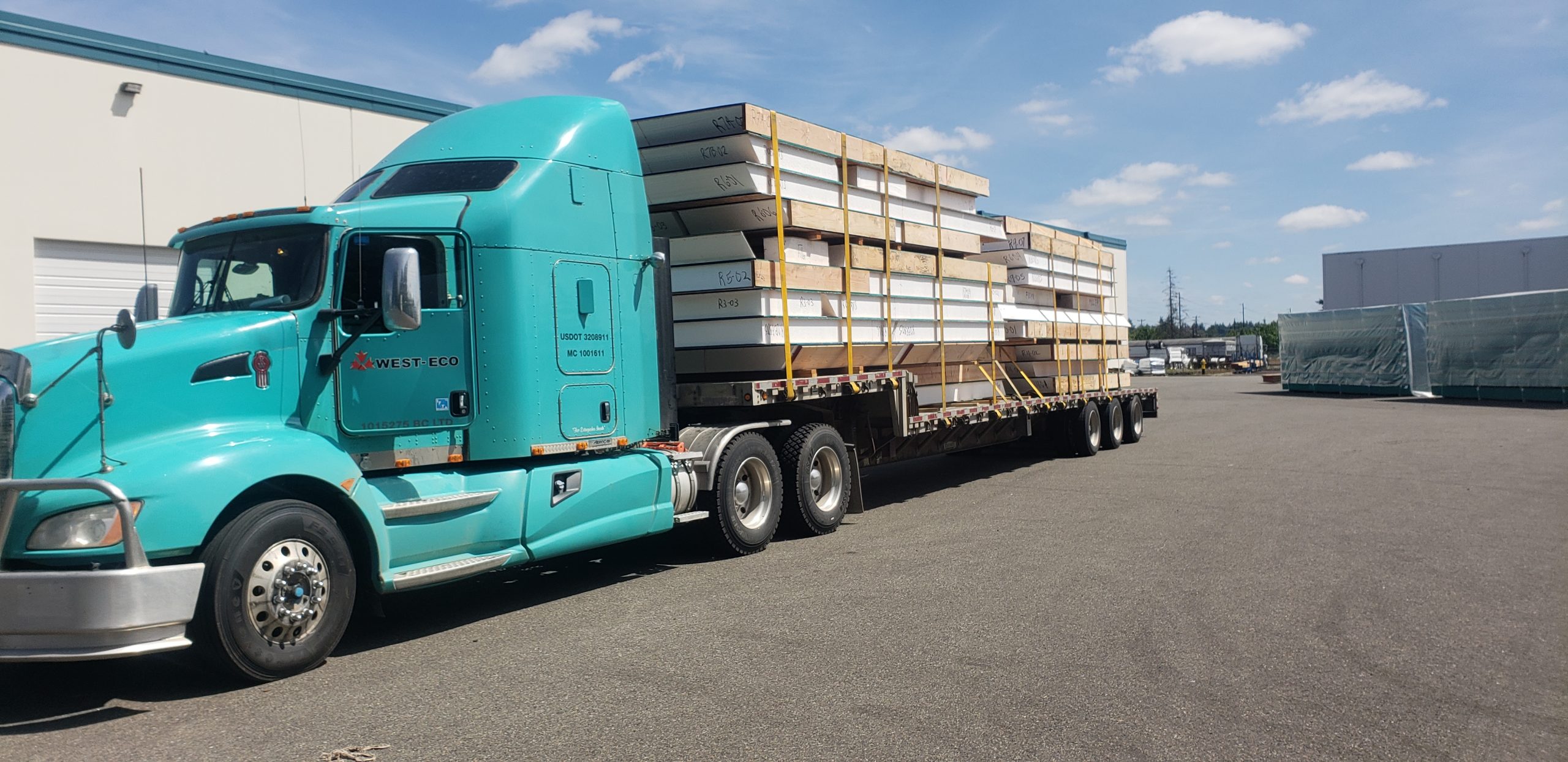 About SIPs
SIPs are commonly used in buildings when energy efficiency is required or desired
Structural insulated panels (SIPs) are high-performance building panels that can be used as floors, walls, and roofs for residential and commercial buildings.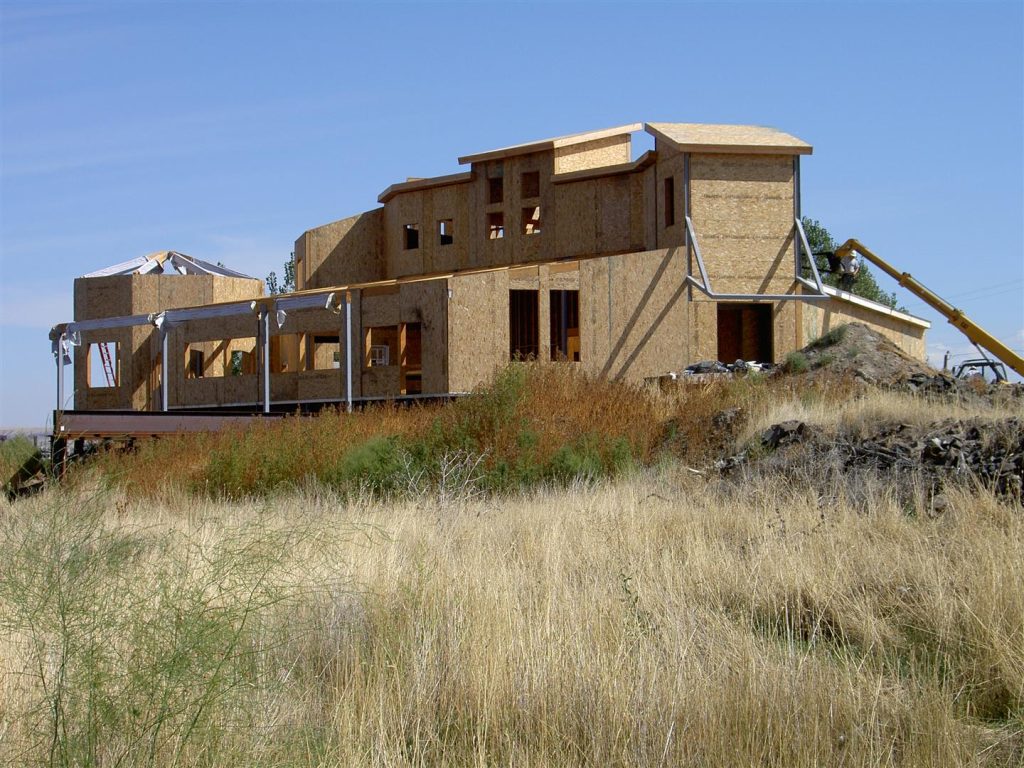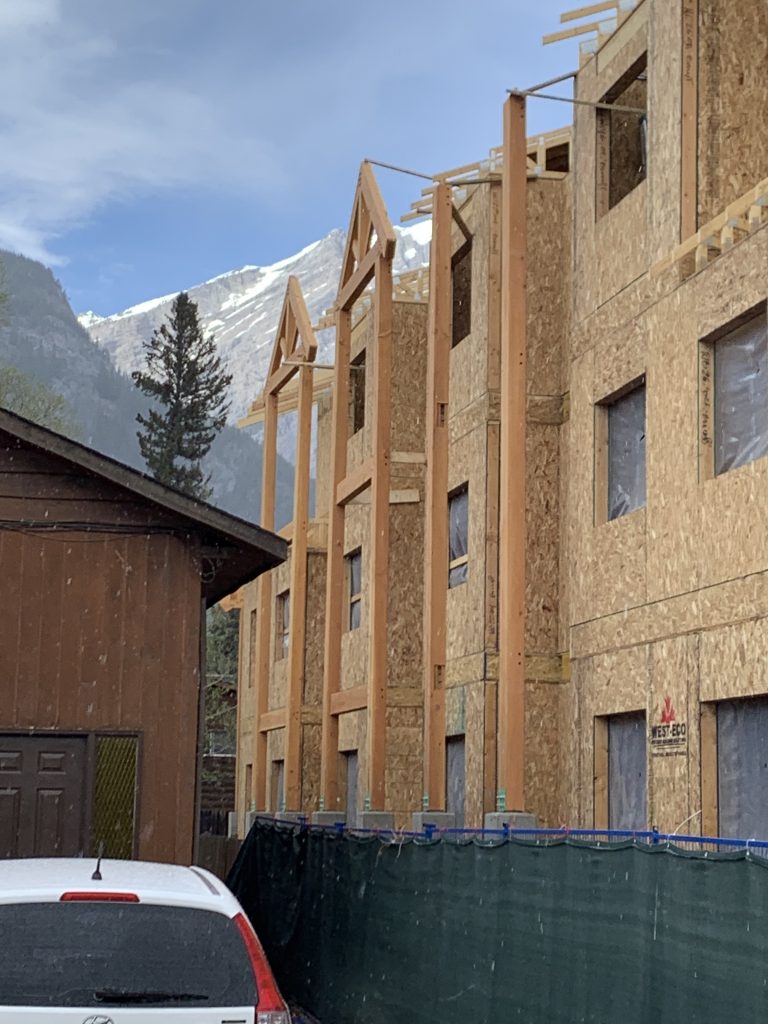 View images of completed projects.

These panels are made by "sandwiching" a core of rigid foam plastic insulation between two structural facings, such as oriented strand board (OSB). Structurally insulated panels are manufactured under factory-controlled conditions and can be custom designed for each project. The result is an extremely strong, energy-efficient, and cost-effective building system. Building with SIPs will save you time, money and labour for both builders and homeowners.
A vital component of the upcoming comprehensive new building code requirements for construction is more stringent requirements for energy efficiency. The requirements include walls and ceilings and enclosing a building with SIPs. Plus, SIPs combine a firm wall, exterior sheathing and hearty insulation into one step, making the installation quick and easy.

Structurally insulated panels are used when:

– A high-performance, energy-efficient, framing solution is required
– There is a requirement for a quick lock uptime
– The building is in a remote location and a panelized system makes more sense (less transportation of construction materials and waste)
– Transportation options to the site are limited
Structurally insulated panels are generally used in the exterior envelope of a building. In building projects, they are most commonly applied as:

Walls
View images of SIP walls.
Within the building envelope, SIPs are most commonly used as walls. The rigid foam core inside each SIP provides continuous insulation across the panels' width and length, avoiding the thermal bridging created by wall studs. Also, because SIPs come prefabricated in large sizes (up to 8 by 24 feet), SIPs have significantly fewer joints that require sealing.
In many applications, SIPs are structurally self-sufficient and do not require additional structural framing. The oriented strand board (OSB) skins and foam core work together as an engineered system with high load-bearing capacity, including axial, transverse, racking, and diaphragm capacities. As such, they can accommodate a wide range of loads, including those from gravity, snow, high winds, and seismic activity.
Compared to stick framing, SIP walls go up much faster since they can be installed in large sections and eliminate the need for separate on-site framing and insulation work. Another way SIPs help speed up construction is that they come to the job site with pre-cut window and door openings. This saves on framing time and, depending on the dimensions, may not require the installation of separate headers. SIPs also have pre-cut electrical chases that eliminate the labour needed to drill through studs for wiring.

Roofs
View images of SIP roofs.
SIPS can be integrated into roofing systems to create a tighter building envelope. One of the primary benefits of SIPs in roofs is their long clear-span capability. The large, single-piece panels can typically span up to 20 feet, reducing the need for interior columns or other intermediate structural supports. Design professionals can also use SIPs in roof structures without an engineered truss system. These capabilities work well for vaulted ceilings, large open spaces, and soaring rooflines, which are common in schools, lodging facilities, multi-housing, and other institutional and commercial building designs. SIPs also work well in cantilevered roof eaves and gable-end overhangs extending up to 6 feet. The monolithic panels can help speed the construction of such design features, compared to framing with individual components.

Insulated Floors
Structurally insulated panels are most commonly used where an insulated floor system is required, such as when building on piers or pilings or other unheated areas. While flooring is less common than wall and roof applications, designers can use SIPs in floor structures where they are not supporting load-bearing walls. Additional support below any load-bearing wall is required.of construction materials and waste)
Builders can save money through decreased construction and labour costs when building with SIPs. Structural insulated panels contribute to a high-performance building envelope that often allows HVAC equipment to be downsized and ductwork to be minimized. Builders can also significantly reduce job site waste disposal during construction. Homeowners that incorporate other energy-efficient features into a SIP home can see utility savings of 50 percent or more.

The following highlights the cost benefits of using SIPs versus other building materials:

– A tighter building envelope can result in up to 40% in energy savings
– SIPs come pre-insulated which means that there is no need to purchase additional insulation
– They are prefabricated & precut when delivered to the job site which can save 20-30% on framing labour
– There are reduced heating and cooling costs by up to 60% less!
– Electrical is installed 20-30% faster
– SIPs help to save approximately 30% on waste sent to the landfills
– The materials offer a more predictable build because they are custom to the building and prevent any unwanted and costly surprises
– SIPs are faster to install and will not hold up the remaining build resulting in spending more money on overtime
There can be many benefits to utilizing structurally insulated panels:

– SIPs are structurally superior compared to non-engineered 2×6 lumber
– SIPs offer a faster construction time. These panels come pre-cut from the factory per the build's custom plans (windows and door holes are pre-cut). Much like a jigsaw puzzle, SIPs can be installed in days rather than weeks. Therefore, a SIP house can be insulated and ready for siding/roofing much faster than traditional 2×6 framed construction with batt insulation
– There is a dramatically reduced air transfer through exterior walls
– Less job site waste as they are customized 
– There are fewer trades to coordinate
– No roof venting is required in low slope roofing
– They offer levelled floors and straight walls where there is no need for fillers
– These structurally insulated panels make the space warmer in winter and cooler in summer
– There is very low thermal bridging
– SIPs offer a sound investment as appraisers now recognize advanced building materials and sustainable features in home values
– SIPs have a strong warranty which allows for peace of mind for years to come 
– SIPs are better for the environment because there is less energy used and reduces greenhouse gas emissions
– They offer long-term durability 

– Structurally insulated panels offer healthier indoor air quality (IAQ) due to the tighter and better-insulated structures enabling the occupants to regulate the air quality with simple ventilation techniques. The EPA also recognizes SIPs role in providing healthier IAQ and outlines some of the reasons why proper ventilation is critical to home occupant's health here
1. Why are SIPs faster to install?
SIP buildings can go up much faster than traditionally framed buildings because they come precut and are ready to install.

2. How sustainable are SIPs?
SIPs are one of the most environmentally responsible building systems available. A structurally insulated panels building envelope is extremely airtight which allows for better control over air quality, reduces construction waste and saves natural resources. 

3. How strong are SIPs?
SIPs are more structurally durable and typically will last longer than traditionally frame buildings.

4. How do SIPs improve indoor air quality?
The airtightness of the structurally insulated panels building envelope prevents air from gaining access to the interior of the home except in controlled amounts. A controlled indoor environment is both healthy and comfortable. Humidity can be controlled more easily in a SIP home, resulting in a home that is more comfortable for occupants and less prone to mould growth and dust mites.

5. Are SIPs compatible with other building systems?
SIPs are compatible with almost any building system. Wall panels can sit on a variety of foundation materials, including poured concrete, blocks, or insulated concrete forms. SIPs are sized to accept dimensional lumber and are seamlessly compatible with stick framing. Builders may choose to build with SIP walls and a conventional truss roof, or with stick walls and a SIP roof with little difficulty. SIPs are also popular as a method of providing a well-insulated building enclosure for timber frame and steel structures.

6. Can SIPs be modified onsite?
Onsite modification can easily be done using a few additional SIP-specific tools. Oversized panels can be cut using a beam saw or a beam cutting attachment to a circular saw. The foam core can then be recessed for splines or dimensional lumber using a hot wire foam scoop or specialized angle grinder attachment.

7. How are electrical wiring and fixtures installed?
Electrical wires are pulled through pre-cut channels inside the core of the panels called "chases." Chases are added during the manufacturing process according to the electrical design of the home. Electricians can feed wires through panel chases without compressing the insulation or drilling through studs.

8. Can SIPs be replaced or repaired if damaged?
If panels are damaged, a structural engineer needs to assess the damage to determine what is cosmetic and what is structural. If the damage is only cosmetic, then the source of moisture must be determined and fixed, whether it is from inside or outside. If the damage is structural, then the source of the problem must be identified and a structural solution to the problem must be found. That can be done by either a site modification of the panels or replacement of the panels, depending on the extent of the damage. In the event that panels are damaged, the manufacturer and installer of the panels should be notified. There are SIPA members who can act as consultants to assess the damage and recommend repair or replacement strategies.

9. Do SIPs block sound transmission?
The sound resistance of a SIP wall depends on the thickness of the gypsum drywall applied, the exterior finish applied, and the thickness of the insulating foam core that is used. SIPs are especially effective at blocking high-frequency noise, and most homeowners notice the quiet comfort of a SIP home. However, low-frequency sounds are not as effectively stopped by a SIP building envelope.

10. How do the SIP design and fabrication process work?
The construction of a structurally insulated panel home or commercial building begins with the construction documents. Once the construction documents are in the hands of a SIP manufacturer, dealer/distributor or design professional, they are converted to SIP shop drawings that give the dimensions of each individual panel.